Laser welding head wireM
Laser welding head for laser wire deposition,
3D metal printing and tool surface repair
The coaxial laser welding head wireM is an interchangeable equipment for robot and CNC laser processing machines. It convinces in research and teaching as well as in the industrial environment with a compact design, simple operability and durable robustness. The latest version offers numerous configuration variants and even more technical interfaces for peripherals.
The adjacent product flyer summarises the features and advantages of the welding head. Based on the included configuration list, an order code can also be selected.
Browse through the digital flyer and request your configuration here now:
Technical data
Dimensions

500 x 160 x 210 mm³ (height x width x depth, depending on configuration)

Weight

~10 kg without peripherals (depending on configuration)
~15 kg with peripherals (such as utilities kables, wire drive, laser fibre connector, camera, etc.)

Wire diameter

0.4 | 0.6 | 0.8 | 1.0 | 1.2 | 1.6 mm (selectable depending on configuration)

Materials

Steel, nickel, titanium, copper and cobalt alloys as solid wire (typical)
Extended special materials:
– Aluminium, zinc and tin light alloys.
– Gold and silver alloys
– High alloyed cored wires

Stickout (free wire length)

0.4 | 0.6 mm wire diameter ≙ 5 to 10 mm
0.8 | 1.0 | 1.2 | 1.6 mm wire diameter ≙ 10 to 15 mm

Laser types

Fibre-coupled solid-state lasers (diode lasers, fibre lasers and disk lasers)

Laser mode

Continuous wave CW (typical)

Laser power

≤4 kW

Deposition rate

≤2.0 kg/h (for steel alloys)
≤2.5 kg/h (with hot-wire add-on for steel alloys)

Laser wavelengths

900 to 1100 nm (typical)

Numerical aperture (NA)

0.1 | 0.2 (configuration dependent)

Fibre connector socket

LLK-D | QBH (configuration dependent)

Accessibility

~40° (aperture of the outer 3 beam cone related to the tool centre point TCP)

Optional equipment

Wire feeder, process camera, hot-wire equipment, shielding gas chamber adapter and special configurations
Integrated functions
Deviating special configurations are possible on customer request.
Flexible and direction-independent welding with robust 3-beam design
The three coaxial laser beams of the wireM melt the wire evenly during the process. Regardless of the direction in which the laser welding head moves over the workpiece, the weld seam maintains the same shape. This simplifies process programming and enables the processing of more complex workpiece geometries. Furthermore, thanks to the robust design, horizontal and upward welding positions are also possible in addition to the vertical trough position.
This allows you to use our laser welding head for a wide range of applications:
Productive processes with up to a maximum of 4 kW laser power and up to 2.5 kg/h deposition rate
The deposition rate indicates the amount of material applied per time - this is often one of the most important evaluation variables when considering process productivity. The choice of laser power and the use of the additional hot-wire function result in the maximum possible values.
The wireM laser welding head is used for long-term processes with up to 4 kW laser power. With the optionally selectable hot-wire equipment, up to 2.5 kg/h of deposition rate can be achieved for steel, for example.
Minimal material influence on the workpiece due to precise laser beam
The energy of a laser beam can be focused very specifically for the welding process. The surroundings of the weld seam are thus hardly affected. The process runs cleanly and mostly without fumes. Due to the minimised energy input, the possible temperature-related component distortion is lower than with other welding methods. This means that less or no reworking is necessary.
Fast wire positioning by means of XYZ adjustment unit
For a long-term stable process, it is necessary that the welding wire enters the melt pool in the centre of the laser focus. Thanks to the wireM's integrated XYZ adjustment unit for the wire feed, this exact positioning can be carried out. This also makes it possible to compensate for the production-related, varying properties of cast and helix of welding wires. The XY positioning is made possible via easy-to-operate rotary knobs and the Z adjustment via a clamp.
Increased material quality with optional shielding gas chamber adapter
The welding material reacts with components of the air during welding. This reaction is minimised by a standard shielding gas nozzle integrated in the wireM and thus achieves the required properties for most applications. If an even higher material quality of the weld metal is required, such as for stainless steel and titanium alloys, the presence of atmospheric oxygen must be further reduced. Such a fully-inert process atmosphere can be realised with a shielding gas chamber and the optionally available adapter. This allows a residual oxygen content of 20 ppm to prevent oxidation and tarnishing.
You can find more information about our SGC500 shielding gas chamber here:
Long processes without interruption thanks to built-in protection functions
For fully mechanised and automated processes, consistent welding quality is required. The optics for focusing the precise laser beam in the welding head therefore require a long service life. To ensure this, the following functions are integrated:
To increase the service life of the protective glass for the optics, the wireM laser welding head is protected from depositing metal splashes and smoke by means of compressed air nozzles. This prevents failures and reduces the number of wear parts required. In addition, our laser welding head has reflective plates and cooling, which protect against heat radiation. This means that even long uninterrupted processes can be carried out.
Adaptable geometric resolution due to variable wire diameters from 0.4 to 1.6 mm
From narrow and flat tracks for precise, smallest geometries to broad and thick tracks for larger welding tasks - a wide range of applications can be mapped with the wireM laser welding head due to the adaptable geometric resolution. By selecting the laser configuration of the optics integrated in the welding head according to the application, the focus diameter can be defined.
For more information, see the configuration table in the product flyer.
Slim and compact design for good component accessibility and low overall weight
The wireM laser welding head has a particularly slim design to enable the processing of flat as well as freely shaped surfaces on more complex workpieces. The three laser beams, which run freely towards the welding point, have an opening angle of 40° and a free path length of 85 mm. This design makes it possible to scan free contours, multi-part welding sequences and extended process strategies.
The compact design also reduces the demands on the handling system, so that CNC kinematics or robots with a load capacity of 20 kg or more can be used.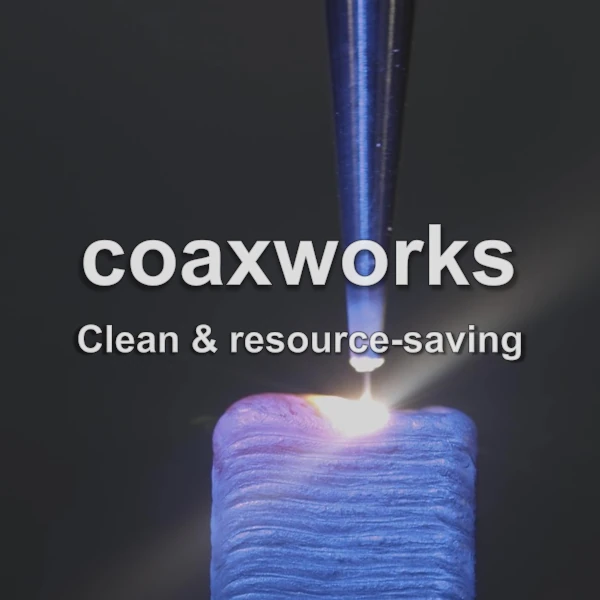 Clean, resource-saving and low-maintenance installation solution through 100% utilisation of the filler wire
The process of laser wire deposition has almost no material losses and is therefore characterised by particularly high resource efficiency. A clean work area protects operating personnel as well as the environment, enables good implementation of occupational safety and ensures high production quality.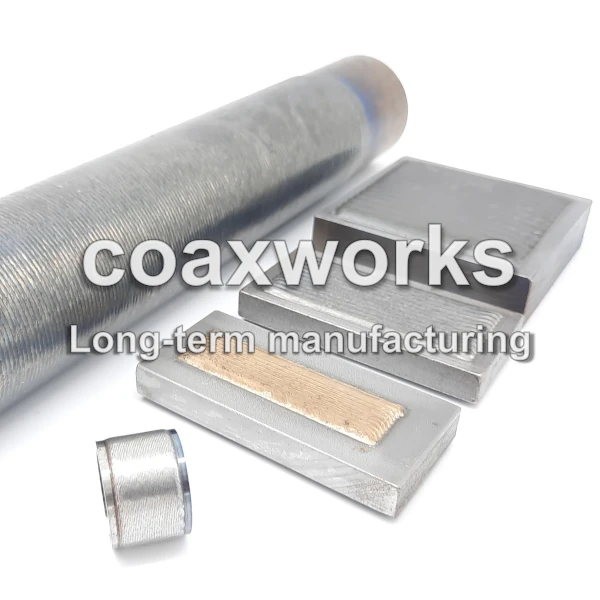 Reproducible and long-term constant manufacturing quality due to automated mode of operation
The laser welding head can be installed as interchangeable equipment in a CNC or robot-based laser processing machine. The associated possibility of reproducible programming enables semi-automatic or even fully automatic processes. Once set up, the machine continuously produces the same quality for the welding task.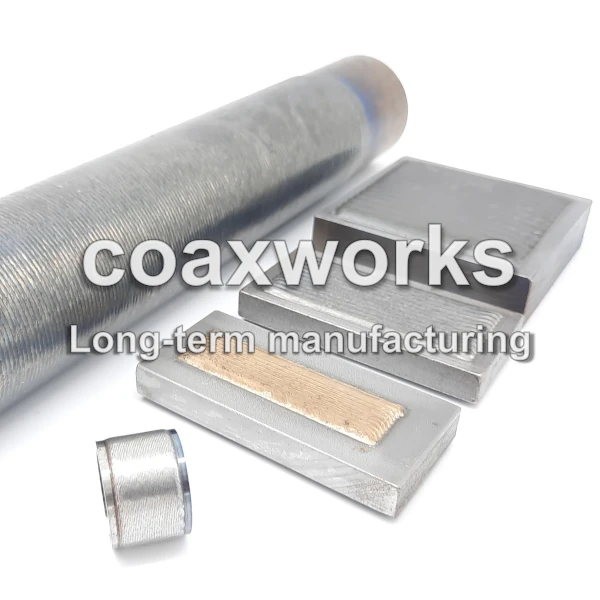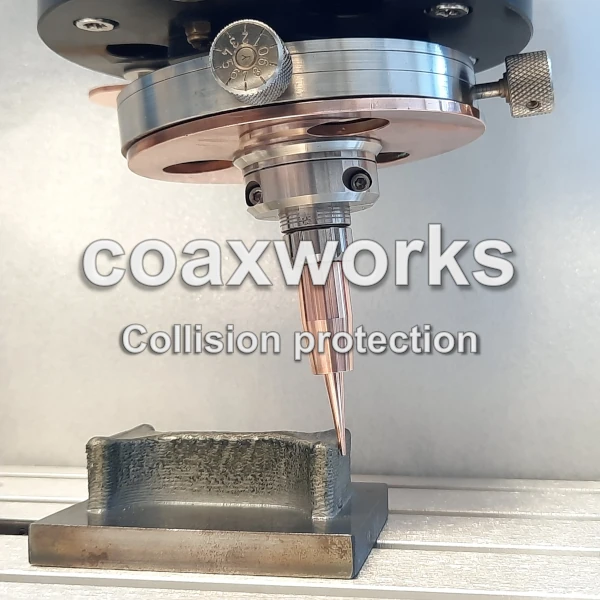 Collision protection integrated close to the process to avoid machine damage
When training new operators or programming new machine sequences, accidental collisions of the laser welding head and the workpiece may occur. Also during welding, unexpected wire sticking can occur under certain conditions. Both require a stop of the machine without delay to avoid damage to the machine and the component.
In such a case, the wireM laser welding head detects the error situation through its integrated collision protection with 7° deflection and signals the laser processing machine to make an immediate emergency stopping.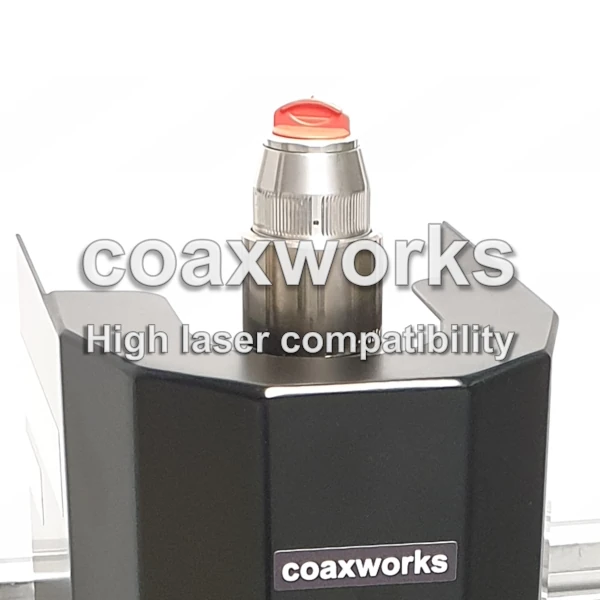 High compatibility with a wide range of fibre-coupled industrial lasers
The laser beam is introduced into the laser welding head via a laser fibre. The most common fibre interfaces are the types QBH and LLK‑D. Similar, more advanced variants of newer design are also possible. The required cooling of the optical elements can be provided by the laser's own cooling circuit or an external one.
To check the compatibility of your laser, use our contact form: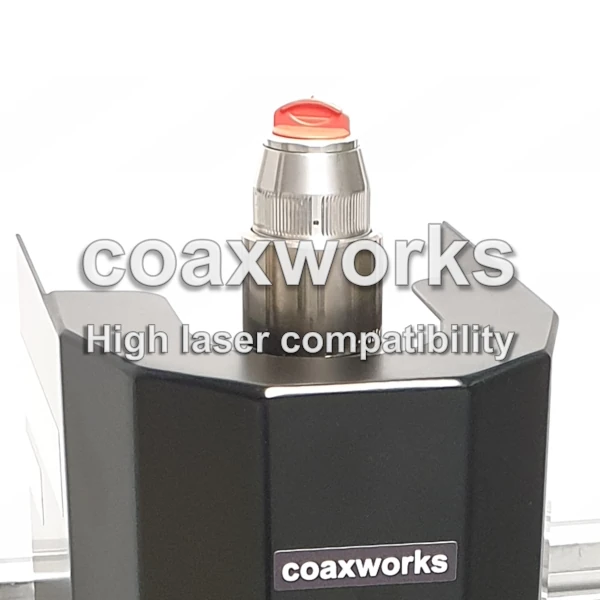 Fast commissioning through individual comprehensive support
Laser processing machines are usually complex and individually configured. To ensure that the integration of the wireM laser welding head functions correctly, coaxworks offers individual support for set-up, commissioning and operator training. According to customer requirements, we also work on-site worldwide.
You can find out more about our services here:
Easy filler wire storage and immediate process readiness
The use of welding wire as a filler metal offers various advantages. It can be easily protected from moisture and oxidation and thus stored safely for a long time. Handling in defined spool form enables space-saving stowage. Mix-ups, mixtures or losses can be avoided. The wire is therefore always a reliable and quickly ready-to-use filler material.
Immediate controllability of the laser power and high-quality video recordings through adaptable camera systems
For parallel viewing and documentation of the welding process, the use of process cameras arranged with the laser beam path or off-axis is possible. Various commercially available variants can be attached to the wireM laser welding head by means of additional adapters. For example, a suitably configured in-line camera system can record the melt pool temperature and directly carry out the readjustment via the system control. An off-axis camera, on the other hand, is well suited for recording the process behaviour and displaying it to the machine personnel.
Long service life due to integrated cooling circuit and easy maintenance due to few wear parts.
For a long service life of the laser welding head, not only the optical elements but also the wire feed is connected to the integrated cooling circuit. Nevertheless, the wire nozzle wears out during operation due to high temperatures and friction of the wire, which is why it can be easily replaced.
Suitable wire nozzles as well as other wear parts such as wire liners and protective glasses are available from our customer service:
Coaxial process shielding through slim shielding gas nozzle
During the welding process, the increased temperature both in the weld pool and directly next to it in the heat-affected zone leads to an increased tendency of the metal to react with atmospheric oxygen. This oxidation must be counteracted by using inert shielding gas. Pure argon or argon gas mixtures are usually used for this purpose. The shielding gas nozzle integrated in the laser welding head is mounted particularly close to the process due to its slim design and allows the shielding gas to flow evenly coaxially around the wire. This design is sufficient for simple welding applications.
If it is necessary to completely avoid the influence of ambient air on the welding process, the use of extended protective measures is required. Significant applications are in the welding of aerospace materials such as titanium and nickel alloys and high alloy steels. For such applications, the additional use of closed process shielding makes sense. The coaxworks SGC500 shielding gas chamber can be a suitable solution for this: