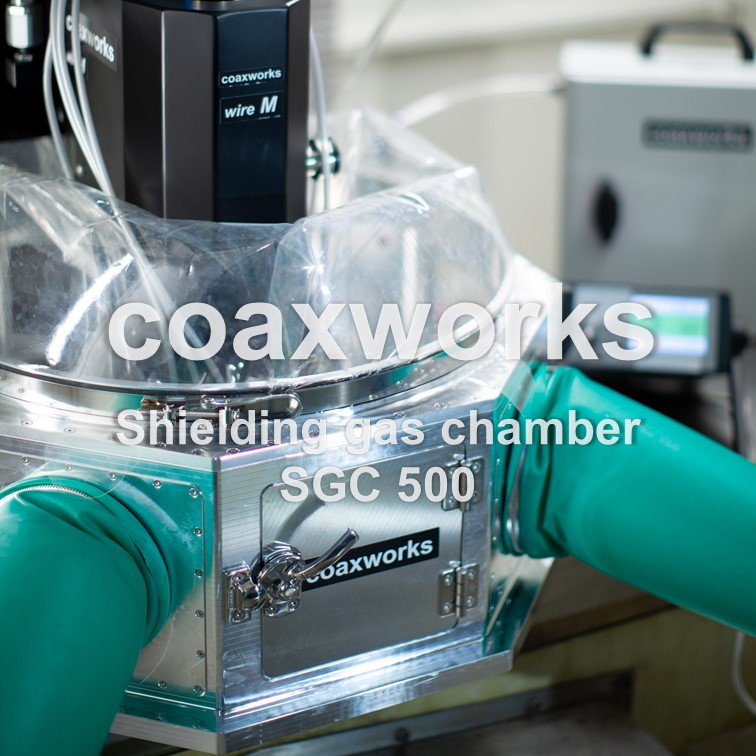 Shielding gas chamber SGC500
With the SGC500 portable shielding gas chamber, coaxworks offers a separate machinery component for CNC and robot-based laser wire welding processes. By means of a flexible foil tent and an additional adapter on the laser welding head, a high-purity shielding gas atmosphere can be set up. Bottom connections for a continuous flow of inert argon gas allow a stable oxygen content of less than 20 ppm after only 20 minutes. The suitable processible component size is approximately 150x150x150 mm³.
The SGC500 protective gas chamber has the following integrated technical features:
a handling flap on the front side for quick chamber loading when the foil tent is installed,

two glove ports at the front for component handling when the chamber is flooded,

a removable T-slot plate for defined clamping of components,

three viewing windows for process observation from the outside and

a quick-clamping system on the top for defined fastening of the foil tent.
Special designs, measuring devices and individual welding head adapters can be customised.
Enquire here now: